Never content to rest on our laurels, our RF engineer has been hard at work finding out why external antennas, connected to newer CLEAR Hub Express modems, don't always get as much actual effective signal gain from a connected external antenna as other modems do, such as the Apollo Clearspot, Stick Atlas USB, or the older 4G USB (PXU1900) modem will get when the same antenna is connected.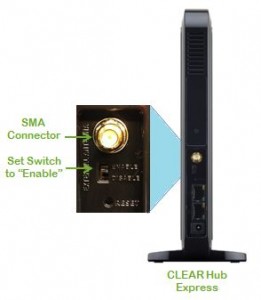 We've found the holy grail, magic bullet, whatever, and now we are offering to "tweak", "reconfigure", whatever term you prefer to use, so that your CLEAR Hub Express Modem will get the best possible signal gain when using an external antenna.  This will NOT change the operation of your Hub Express when you run it without the external antenna connected, only with the antenna.
It does require a physical reconfiguration to the actual modem, but once done, your CLEAR Hub Express modem will get the best possible signal gain from any external antenna you attach, whether it's one that we sell, or one you bought elsewhere.
Clearly Wimax Solutions's engineering staff will convert your Hub Express & ship it back to you by the next business day, but only if they have it in their schedule. Please don't simply ship your modem without us expecting it, because we won't convert it until you've paid.
We have partnered up with WiMaxSATX.com to offer you a brand new CLEAR Hub Express Modem for only $50 during the month of July, and let us tweak it prior to shipping, perhaps along with one of our antennas to save costs on S&H.  Contact WiMaxSATX at 210-771-7075 to order your CLEAR Hub Express today.  On sale during July for half off retail price, only $50 plus S&H.  See www.wimaxsatx.com for details.
The introductory offer price to perform this task is only $35 plus $17 S&H ($52 total), plus whatever it costs to ship your modem to Clearly Wimax Solutions. This offer is good thru the end of July 2012, and then the price may increase to $45 afterwards for stand alone tweaking (i.e. not ordered in combination with one of our external antenna products). Note, if you order this item, at the same time you order an antenna, we will combine shipping to save you on S&H charges.
Please contact sales@clearlywimax.com to schedule your Hub Express Tweak today!
Contact WiMaxSATX.com at 210-771-7075 or lee@wimaxsatx.com to order your new CLEAR modem if you want us to tweak a new one and ship it to your already done, perhaps along with an antenna as well.